Stackhouse Gin and Real Ale Bar
Bridlington's latest real ale and gin bar, Stack House Bar Bridlington – it's always 5pm somewhere…
We went to visit one of our new installations earlier this year to see how they were getting on with our products. This installation is slightly different from most as it's a one-off installation of 6 Oniris heaters in a bar.
We asked the owners a couple of questions to find out why they decided to use Atlantic products and how they were finding them.
Why did you choose the Atlantic products?
We chose the Oniris panel heater as it had all the features we needed to control the heater, both when we were in the bar and remotely, and there sleek and stylish design gave us a great looking contrast to our industrial retro theme.
What features do you most like?
We love being able to control the heaters from our iPad we use as the till. If we just have a few customers at the bar we can set the lounge area to a lower temperature giving us a saving on our energy bill. Likewise when the bar is in full swing on a weekend we can turn all of the heaters down to accommodate for the number of people here.
How did you find the installation?
Our electrician did say they were really easy to install, pretty much as simple as wiring a plug. The first setup is really simple as well, the heater just guides you through each step.
Did you look at other forms of heating for the bar and if you did why not the others?
Yes, we looked at central heating with a gas boiler, air conditioning and of course electric heating.
Gas Boiler

We ruled this out pretty quick as we don't have gas to the property and the cost of all the pipework and radiators including a gas line was quite a lot. We also wanted something that was really quick to react.
Air Conditioning

We were quite keen to go for air conditioning as it got everything up and out of the way of our customers however when the quote came through it was several thousand pounds.
Electric Heating

This fit our brief pretty much perfectly, it was cost effective and the heaters are really slim and you can hardly tell they are there.
Would you recommend the Atlantic products to others?
Definitely, we would suggest that others think a little outside the box as well. Electric heating wasn't our first thought as we hadn't seen it in other situations like ours but as it turned out electric heating was the best fit for us by a mile.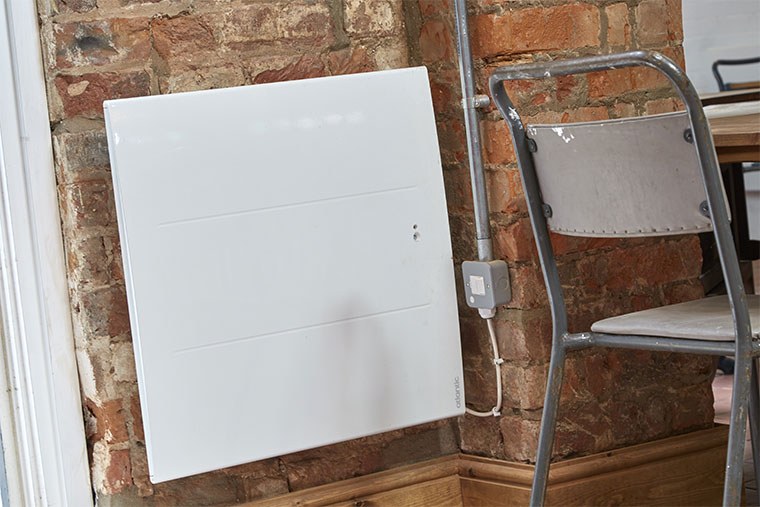 Due to the success of installation in Bridlington, Stack House bar are also looking to install Atlantic heaters in their original bar in Hornsea. We are looking forward to working with the Stackhouse team again and maybe sampling a few more ales and gins.
For more information about the Oniris and other Atlantic products click here – (link to product pages).